How To Choose The Best Woman Pashmina Scarf
Oct 14,2022 | Vkoofashion
Pashmina is the finest type of wool and it can be used to make any clothing item. It is also known as "cashmere" which is a very expensive, luxurious type of fabric. Usually, as this kind of material is more functional at keeping warm, people usually use pashimina as a material to make some autumn or winter outfit or accessories.Scarf is the most popular pashmina items.Pashmina scarves are made from the finest, softest pashmina wool that only gets softer with every wear.
What to look for in a Pashmina Scarf
When shopping for a pashmina scarf, there are a few things you should keep in mind.
First, choose a scarf made from 100% pure cashmere wool. This will ensure that your scarf is soft and of the highest quality.
Second, make sure the scarf is a good size – it should be long enough to wrap around your neck several times and wide enough to cover your shoulders.
Finally, pick a color or pattern that you love!
What are the best types of Pashminas?
When it comes to choosing the best pashmina for you, there are a few things you should keep in mind.
The first is the material. Pashminas are typically made from cashmere, silk, or wool. Cashmere is the most expensive option but it's also the softest and most luxurious. Silk is a good middle-of-the-road option - it's not as pricey as cashmere but it's still very soft. Wool is the least expensive option but it can be scratchy if you're not used to it.
The second thing to consider is the weight of the pashmina. Heavier pashminas will keep you warmer but they can also be a bit more difficult to manage. If you live in a cold climate, a heavy pashmina is probably your best bet. If you're just looking for something to wear on chilly evenings or in air-conditioned buildings, a lighter weight pashmina will do the trick.
Finally, think about the color and pattern of the pashmina. Solid colors are classic and easy to match with your wardrobe but patterns can add a bit of fun and personality to your look.
What are some benefits of owning a Pashmina Scarf?
Pashmina scarves are one of the most versatile and popular accessories for women. They offer a wide range of benefits that can make them a great addition to any wardrobe. Here are just a few of the benefits of owning a pashmina scarf:
1. Pashmina scarves can be worn in a variety of ways.
2. Pashmina scarves are made from natural fibers, making them extremely soft and comfortable to wear.
3. Pashmina scarves are available in a wide range of colors and styles, so you can find the perfect one to match your outfit.
4. Pashmina scarves are relatively inexpensive, making them a great option for budget-conscious shoppers.
5. Pashmina scarves make great gifts for family and friends.
Are there any disadvantages to owning a pashmina scarf?
While pashmina scarves are generally very versatile and can be worn in a variety of ways, there are a few potential disadvantages to owning one.
First, pashminas can be expensive, so you'll need to be sure that you really love the scarf before making the investment.
Additionally, because pashminas are often made with delicate materials, they can be difficult to care for and may require special cleaning instructions.
Finally, depending on the style of pashmina you choose, it may not be appropriate for certain occasions - for example, an overly flashy or brightly-colored scarf might not be ideal for a formal event.
How much is a pashmina scarf?
A pashmina scarf is a type of scarf that is made from the softest and most luxurious wool. Pashminas are usually very expensive, but they are worth the investment because they will last for many years. The average price of a pashmina scarf is around $200. However, there are some scarves that cost much less than this.
When choosing a pashmina scarf, it is important to choose one that is made from high-quality wool. There are many fake pashminas on the market, so it is important to be careful when purchasing one. It is also important to choose a color that you will love and that will go with many different outfits.
Where can I find a cheap and high quality pashmina scarf?
There are many places where you can find a cheap and high quality pashmina scarf. One great place to look is online. You can often find great deals on websites like Amazon or eBay. Another option is to check out local stores in your area that sell scarves. Often, these stores will have sales or clearance items that you can take advantage of. Finally, don't forget to ask around! Your friends and family may know of some great places to find cheap and high quality pashmina scarves.
And here is one of our pashmina scarves you can try: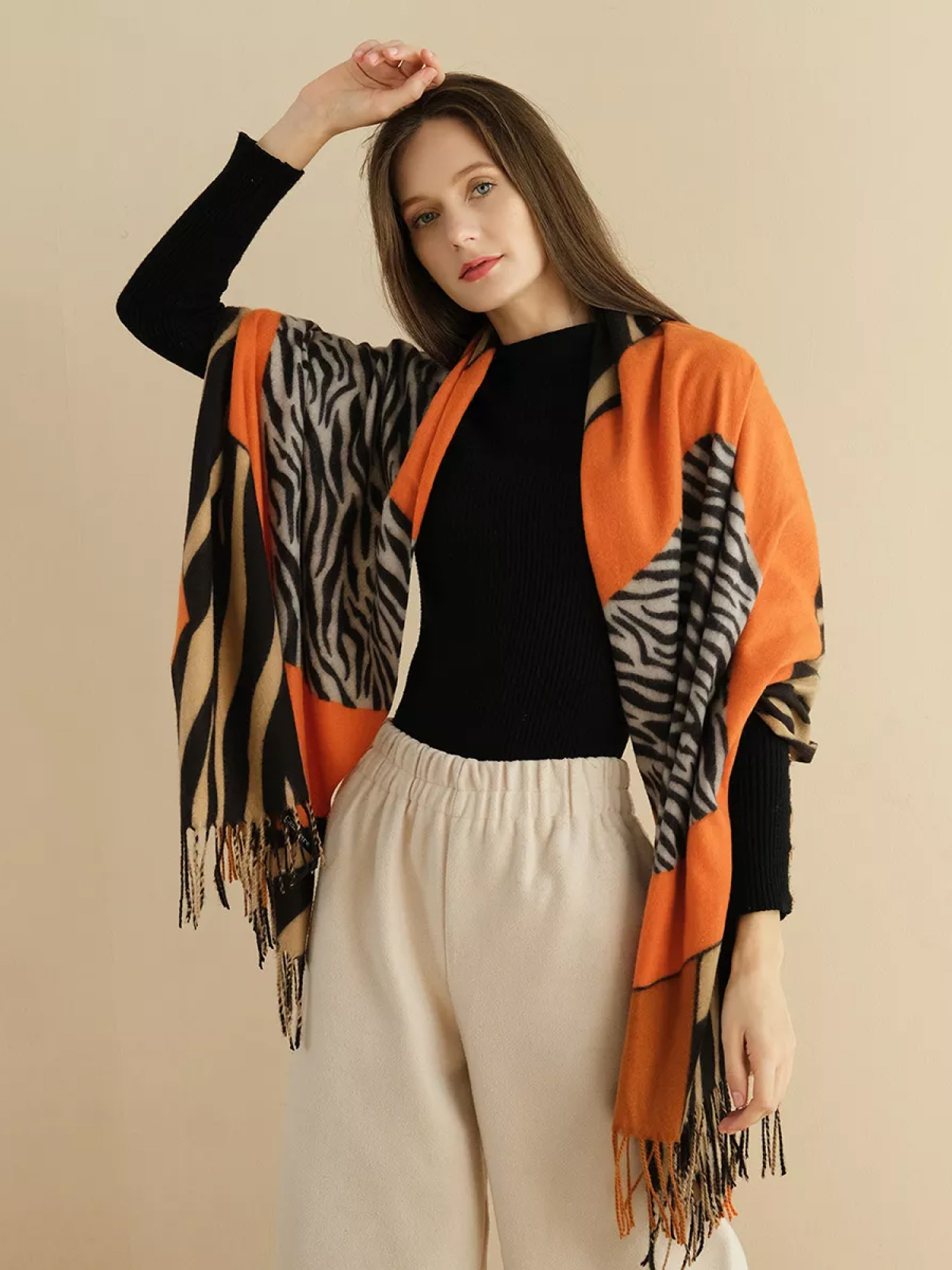 ZEBRA FRINGED SCARF(click picture for more details)
PRODUCT DETAILS
Free hands, travel easier

The bag can hold your mobile phone/tissue/cosmetics and other items

It's personalized and confortable to carry

It can meet your daily travel needs
Comment